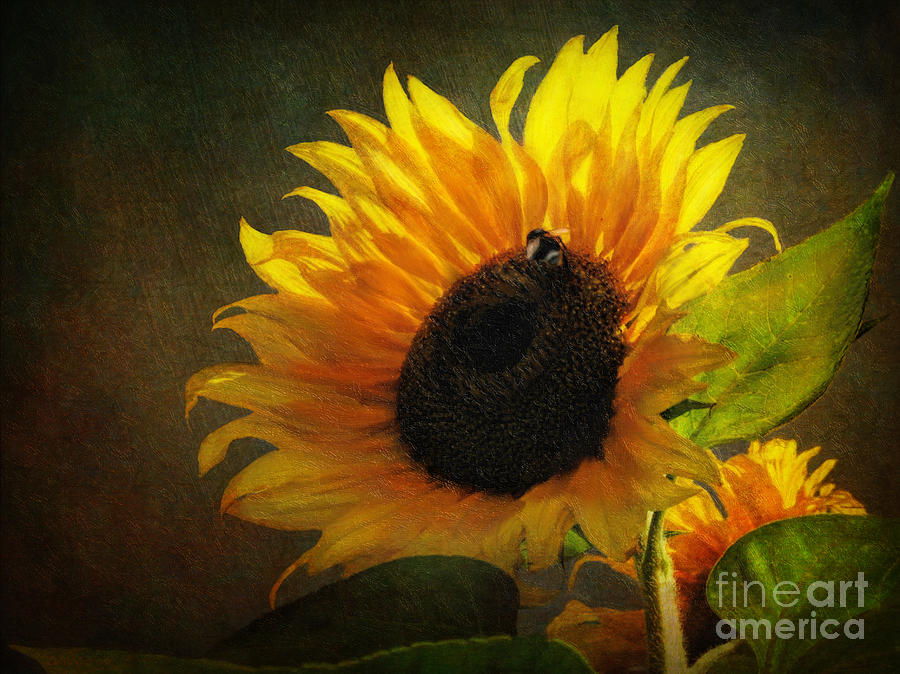 Title
...My Only Sunshine
Medium
Digital Art - Digital Painting/photographic Art
Description
This sunflower digital oil/impasto painting is the mate to one I posted a couple of months ago - hence the title which is the second part of the opening line of the song, "You are my sunshine..." This is an original digital painting with the final layer done in an impasto style to enhance and deepen the feeling of texture in a digital work. It was accomplished in many layers much like an old chromolithography would have been. The first layer is an extremely abstract version, followed by a softened Impressionist layer, then a more detailed layer of digital oils. After adjustments to opacity and color, additional layers were created in a fine brush impasto..

The sunflower is an annual plant in the daisy family that is best known for its size, height and bright yellow petals (occasionally red) with a dark brown, almost black, seeded center. Grown primarily for its oil and edible seeds, the sunflower is one of nature's most nutritious foods for animals and humans alike.

According to Wikipedia, the plant construction is unique and complex and what we generally think of as the flower is not exactly that. "The plant has an erect rough-hairy stem, reaching typical heights of 3 meters. The tallest sunflower on record achieved 8.23 m (27 ft). Sunflower leaves are broad, coarsely toothed, rough and mostly alternate. What is often called the "flower" of the sunflower is actually a "flower head" (or flower heads) of numerous small individual 5=petaled flowers (florets). The outer flowers which resemble petals are called ray flowers."

Heartfelt thanks to the following groups for featuring this image:
FLORA - KIM
APPRECIATING WORKS IN ALL MEDIUMS - STEFON
SELF TAUGHT ARTISTS YOUR WAY - TRACY
SIGNATURE STYLE ART - SHARON
DIGITAL ART AND FABULOUS FRACTALS - KIKI ART
DIGITAL REALISM - ANNE
DAILY DOSE OF WISDOM - ETI
ALL FINE ART AMERICA ARTWORK - NADINE AND BOB
BEAUTIFUL FLOWERS - BRUCE
BOOKS COVERS 1 PER DAY - JO ANN
BEAUTY - JAMES
MEMORIES AND NOSTALGIA - ALEXANDRIA
PLEASING THE EYE - JEFF
THE LIGHT PAINTERS - HEIDI
IN THE MOOD - LISA
BEST IMAGE PROMOTION - WILLIAM
ART WITH FLAIR - WILLIAM
THE ART SHOPPE CAFE - JACQUELINE
DIGITAL ART AND RESOURCES - ROSEANN
WEEKLY FUN FOR ALL MEDIUMS - CHRISANN
PREMIUM FAA ARTISTS - DAN
DYNAMIC DIGITAL ARTWORK - GARETH
INTERIOR DESIGN - CLARE

Thank you for your interest in my artwork. I am a western New York based artist with a passion for the sea and a deep love for the natural world around me. If you would like to see more, my full portfolio can be found at http://lianne-schneider.artistwebsites.com. If you enjoy my art works, please feel free to share this link with friends or share on your social networks by pushing the Pinterest, FB, Google+, Twitter or SU Buttons! Thank you!


This painting is an ORIGINAL digital art work created on the computer from a a public domain painting or photograph, recreated and hand-painted on a Wacom tablet using a variety of painting styles and digital mediums. According to the International Association of Fine Art Digital Print Makers (IAFADP), "An original digital print is not based upon using original artwork outside of the computer. The artist may use elements as source materials, such as photographs, drawings or other appropriated images (those in the public domain), but THE FINAL FORM OF THE WORK EXISTS ONLY IN THE COMPUTER AND AS THE FINAL PRINT OR AS AN EDITION OF PRINTS." Furthermore, according to ArtBusiness.com, there is a distinct difference in value between a print/scan of an original watercolor, painting or photograph "...as opposed to original digital works of art created by digital artists entirely or in part on computers which ARE considered to be unique." This is exactly how I create my original works and each painting is the result of many layers of hand-painting in various styles (impasto, pen and ink, digital oils, etc.) then overlaid upon one another.

You can purchase quality traditional style fine art prints of these digital paintings, giclee canvas prints, acrylic and metallic prints by Lianne Schneider. They are beautiful and stylish decor for any wall in your home, office or lobby. My works include detailed landscapes, seascapes, still lifes, flowers and more...all with the look and feel of classic oil paintings. The FAA-Watermark will NOT appear on any final product!

Please contact the artist, Lianne Schneider, directly if you purchase this image as a giclee print on canvas, framed or unframed. A signed and numbered Certificate of Authenticity is available for each canvas indicating title of the work, my name, date of creation, a thumbnail of the painting, the origin of original work if the painting is a derivative, the number of your print in the limited printing and a guarantee that the work will no longer be available to the public in a canvas format once a total of 25 canvas prints are sold from all potential vendors.

Copyright Lianne Schneider 2014
This is a rights managed image available for licensing at http://licensing.pixels.com/profiles/lianne-schneider.html

All images and my personal poetry/prose are protected by copyright and may not be reproduced, downloaded, distributed, transmitted, copied, reproduced in derivative works, displayed, published or broadcast by any means or in any form without prior written consent from the artist. My copyright does not imply rights to an underlying public domain image and I make no such claim. Copyright on works derived from or based on images in the public domain applies only to the subsequent manipulation or the digital painting resulting from my own style and interpretation. The original image remains in the public domain and such images are used in accordance with international law.

Uploaded
September 9th, 2014
Statistics
Viewed 5,303 Times - Last Visitor from White Plains, NY on 02/07/2023 at 2:44 PM